Chacktok 360 Photo Booth 45″5′ With Flight Case support 5-7
$3,500.00
Privacy Policy
Last updated: May 09, 2022
This Privacy Policy describes Our policies and procedures on the collection, use and disclosure of Your information when You use the Service and tells You about Your privacy rights and how the law protects You.
We use Your Personal data to provide and improve the Service. By using the Service, You agree to the collection and use of information in accordance with this Privacy Policy.Read More
Interpretation
The words of which the initial letter is capitalized have meanings defined under the following conditions. The following definitions shall have the same meaning regardless of whether they appear in singular or in plural.Read More
Cookies
If you leave a comment on our site you may opt-in to saving your name, email address and website in cookies. These are for your convenience so that you do not have to fill in your details again when you leave another comment. These cookies will last for one year......
$3,500.00
Privacy Policy
Remote APP Control Automatic 360° Spin Camera Booth
Free 4+4 Months Chacktok VIP 
Enjoy 360-degree shooting to capture the best moments. The stage has a load-bearing capacity of approximately 1300 lbs, accommodating 5-7 people. (This promotional item is shipped to the US only.)
2 in stock
Free Shipping (US only)! Delivery time: 6-11 Days
Free Chacktok App for 8 months(Value 640$) (Unlimited Events without watermarks)
Free Personal Software Guiding ( Value 100$)
Free 3 Years  Damage Parts warranty (Value 1000$)
Free Custom Logo Sticker ( Value 199$)
Free Search ads Consultant service 3 months ( Value 1000$)
Payments:
Ready for the spotlight, Low stock for Sale with 8 months free App.
Capture the Whole World, Seamlessly - Discover the beauty of 360-degree photography with our panoramic device, and create stunning, borderless memories.Or Start your own 360 photo booth business and make money.
We provide financial support for purchasing in the United States.Buy now Pay later with Affirm.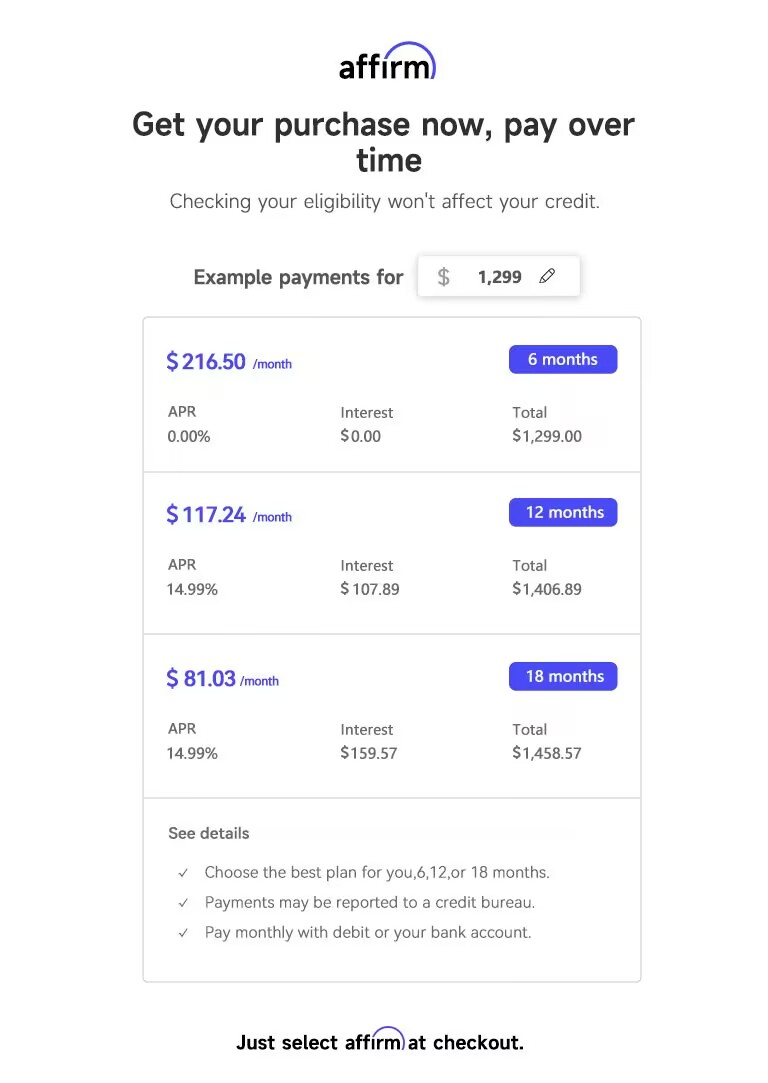 Repay the finacial plan with profit.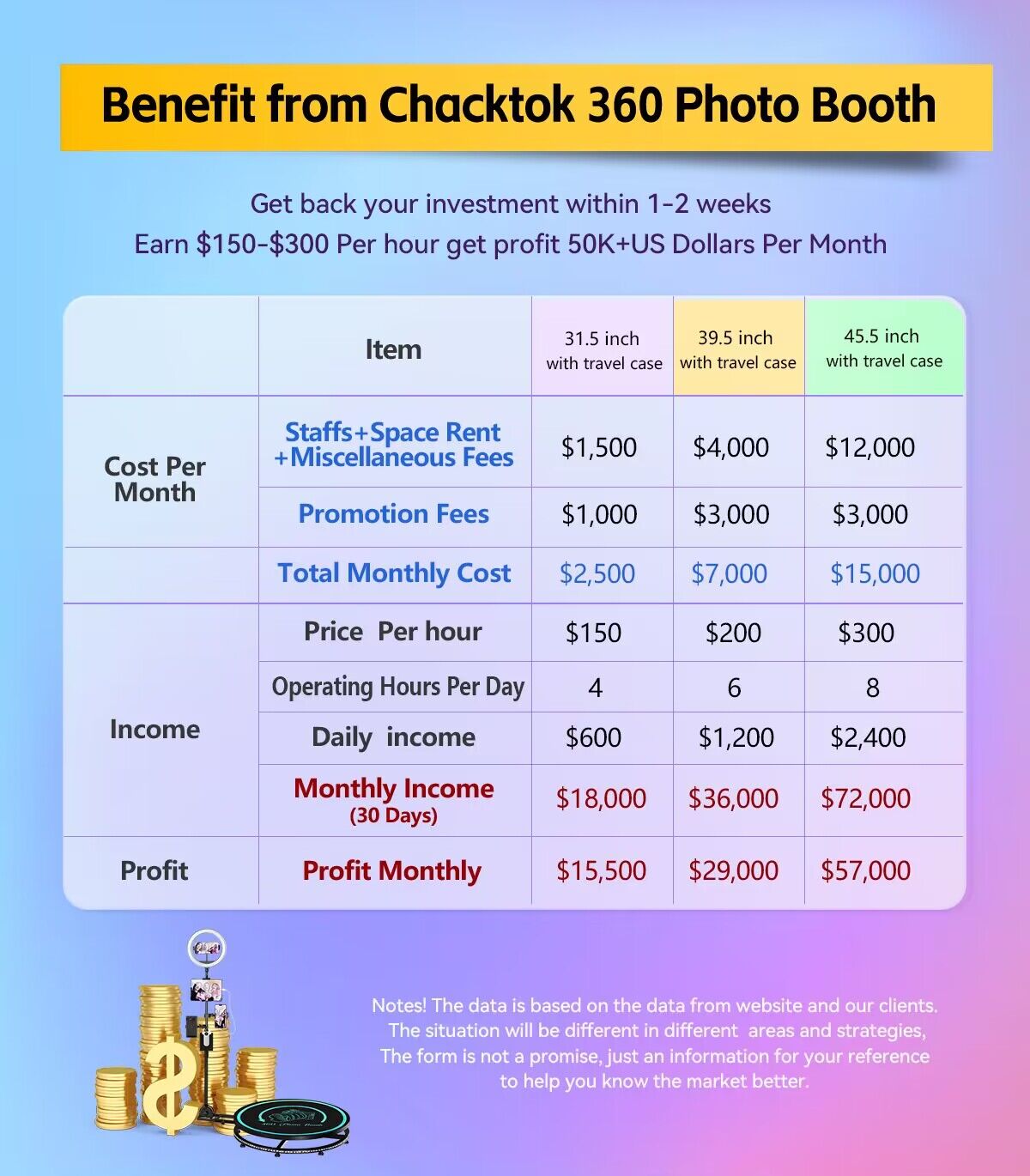 Make your money back in just 2 to 3 events! The average rental for the 360 photo booths is around $500 per hour in USA ! In other countries ,at least you can earn $100 to $300 per hour in events. 🤑 🤔 Let's do the math: One 3 hour rental = $500 x 3 hours = $1500 Do this three times in one month: 3x $1500 = $4500 Your investment will be FULLY PAID OFF! Plus extra on the side for some Starbucks. 😋 So what do we suggest you do? When you start to get double and triple booked, buy more platforms to scale your business
So Why not start your own business and make money now ? We will show you how to do this.See below.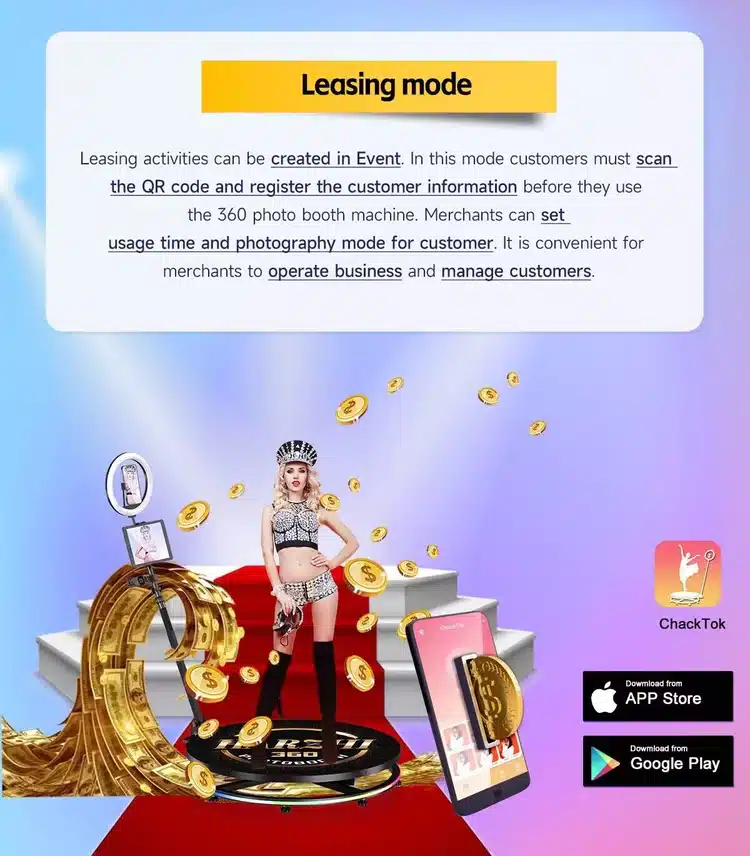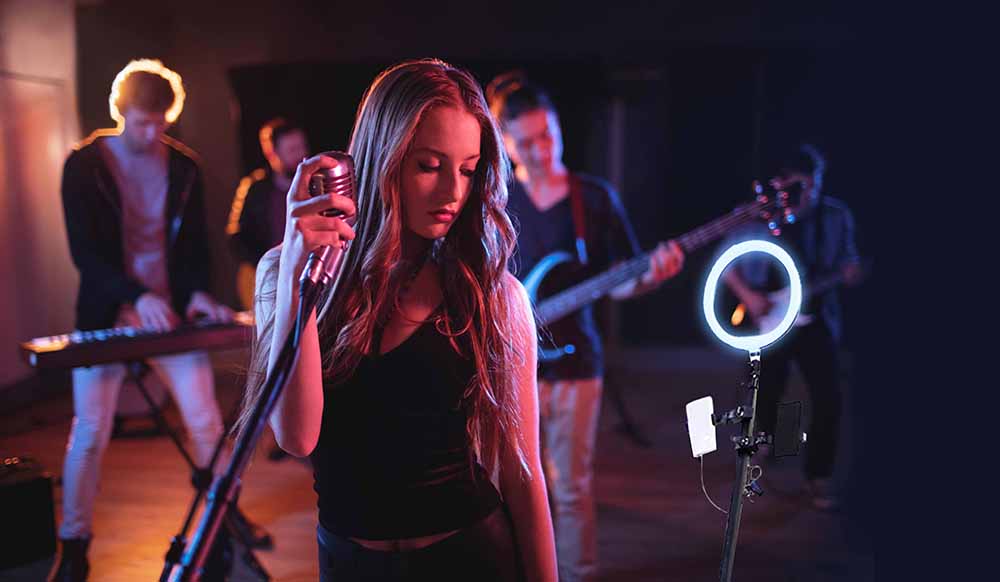 Weddings & Private Events
Capture 360° of your private event and give your guests content they will remember. Chacktok's software will allow guests to upload to their social media using any hashtag they want!
Why Purchase From Us?
✅ Free 360 photo booth software ChackTok (You can create Unlimited Events ) 4+4 Months without watermarks
✅ Free access to our 360 photo booth course
✅ Free 3 Years Warranty on damaged parts
✅ Free assembly assistance (Tele assistance)
✅ Quality design and materials
✅ Free Business Startup Consultation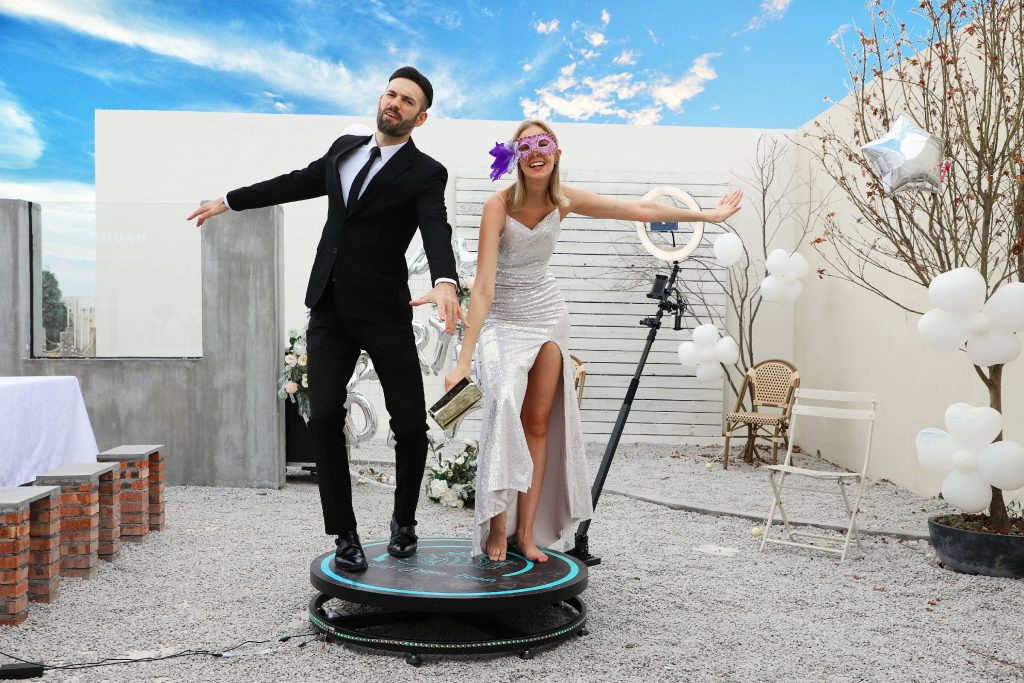 See 360 photo booth rental trend below -Real Data You can check -Interest by subregion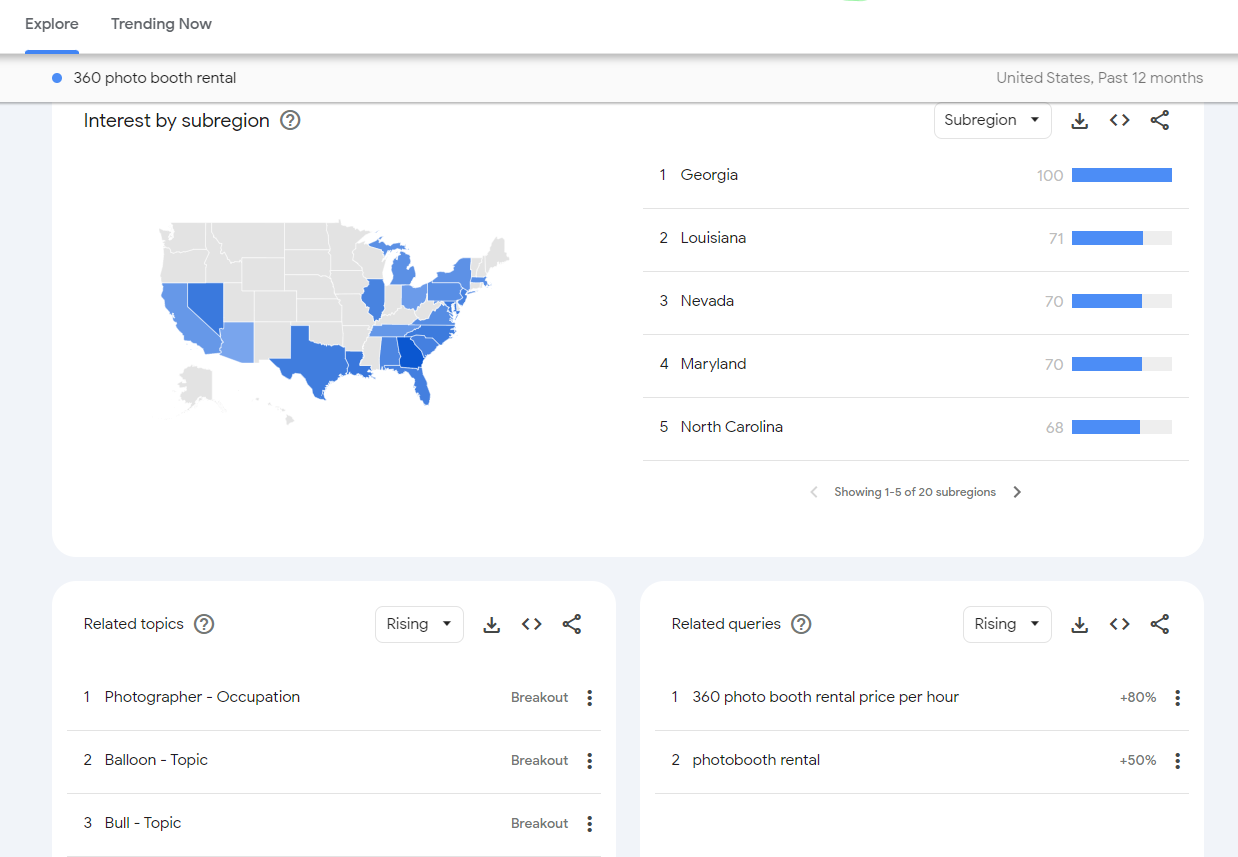 We will help you find 360 booking clients with our marketing team,Save cost with our free search ads consultant /Agency service for 3 months- Limited Time activity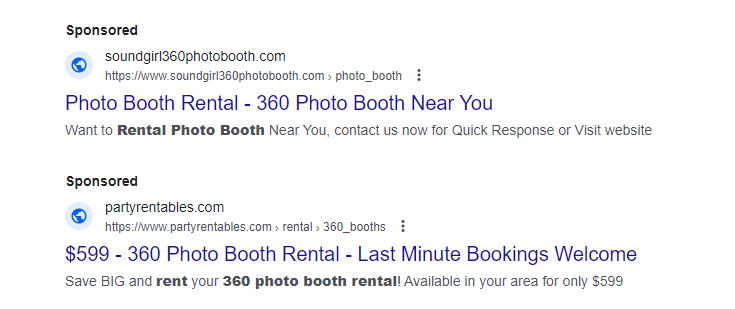 You can create Rental Price Package like below for us to put in Search ads ( So the customers can book from you )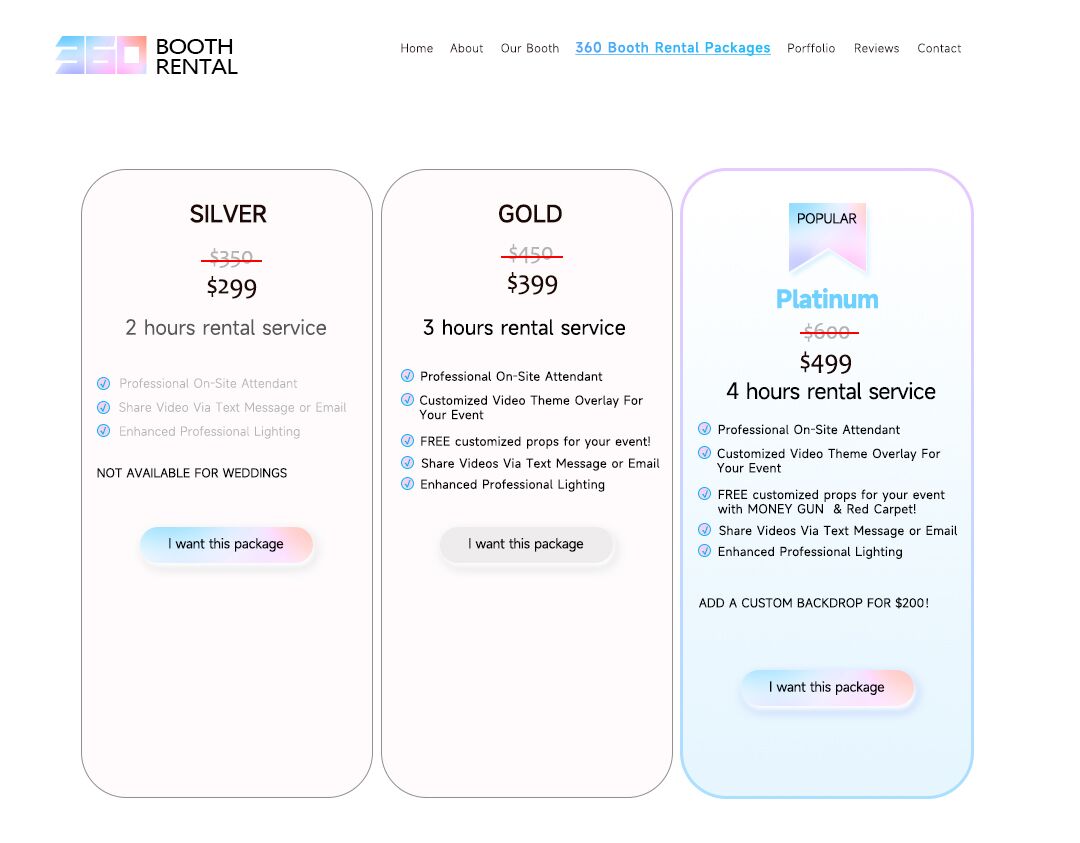 There are more than 14k searching the keyword "360 photo booth rental" per month,we help you target.We are the only provider in the market of this free marketing agency service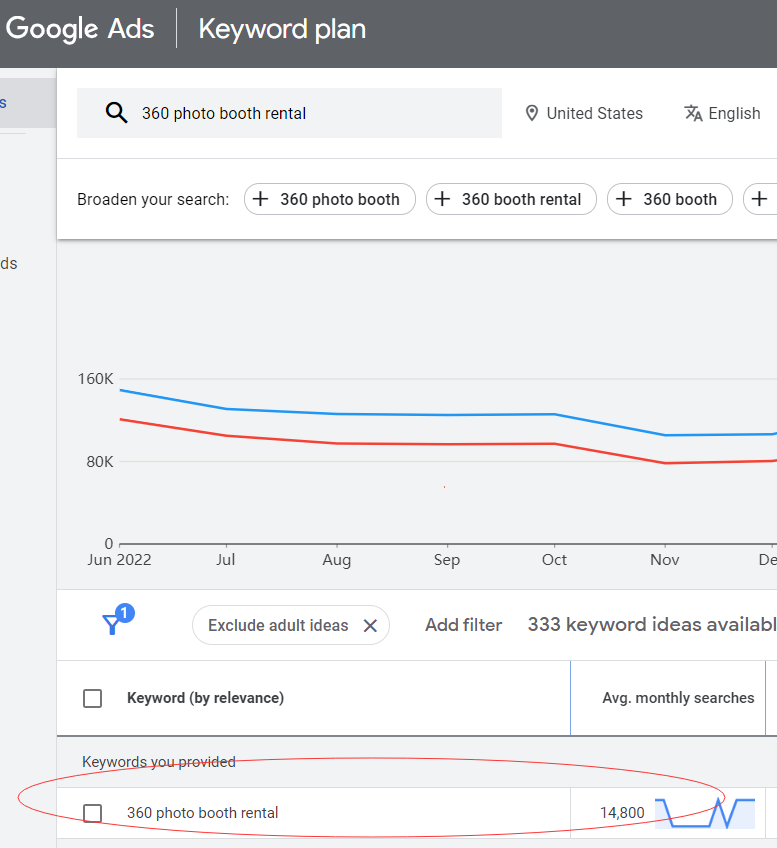 We sell not just the machine but a business system that really works, that is what makes us different.
Customized Free Logo giving away now ,Save cost building your own brand- Time limited activity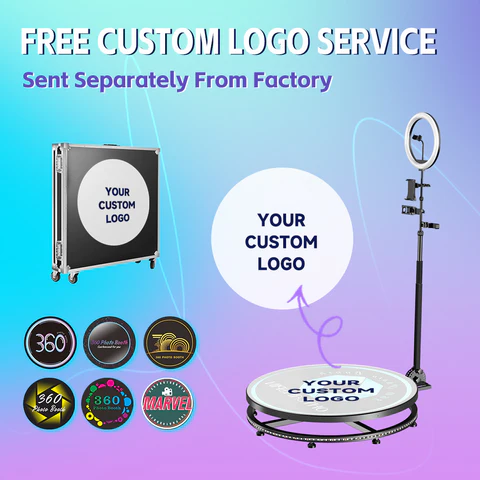 Save cost with our free 360 operating software Chacktok 8 months-Limited Time activity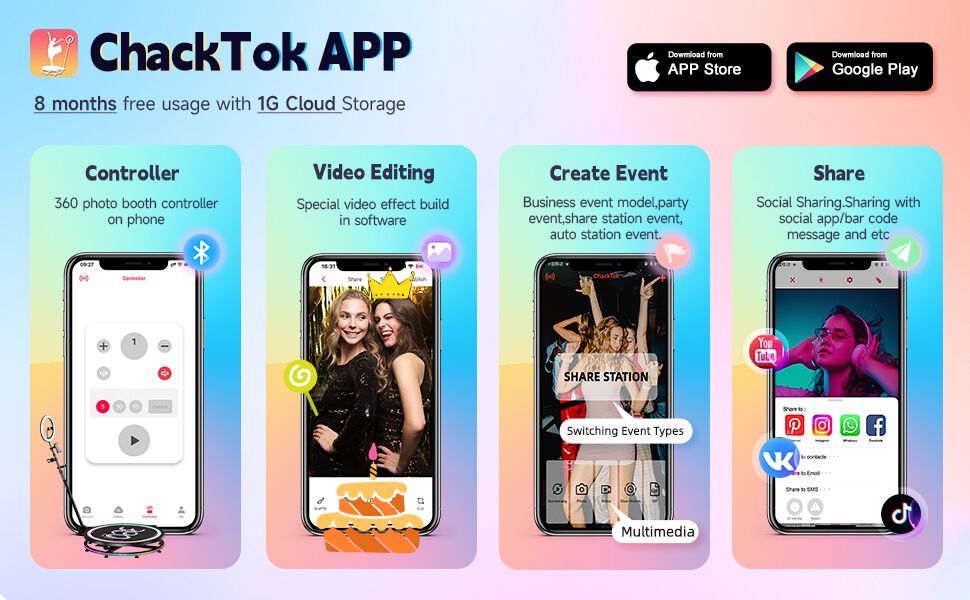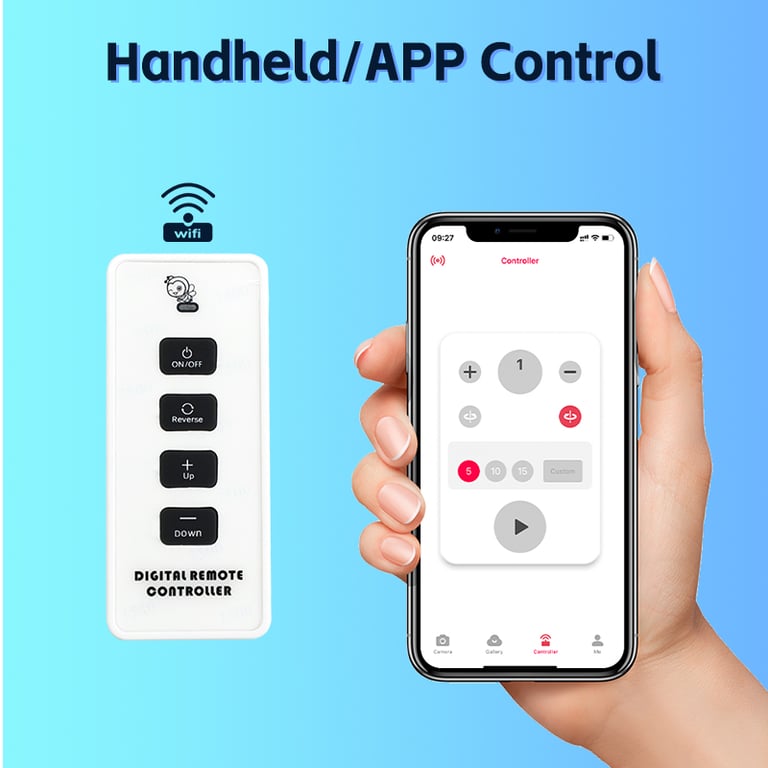 360° Automatic Spin APP/REMOTER CONTROL
4 in 1 remote controller and Emergency STOP controller. 2 Remotes:replacement wireless remote used for 360 booths, Including ON/OFF, acceleration, deceleration, and reverse rotation.
Chacktok 360 photo booths allow Chacktok app to start and stop the arm as well as control the speed and direction via Bluetooth.
Whether it is live streaming, shooting panoramic photos, Vlog or DIY video creation, the 360 photo booth will bring infinite creative inspiration and shooting convenience.
APP/Button remote control the 360 booth machine. If the button remote control fails, the APP remote control can be used as a backup solution.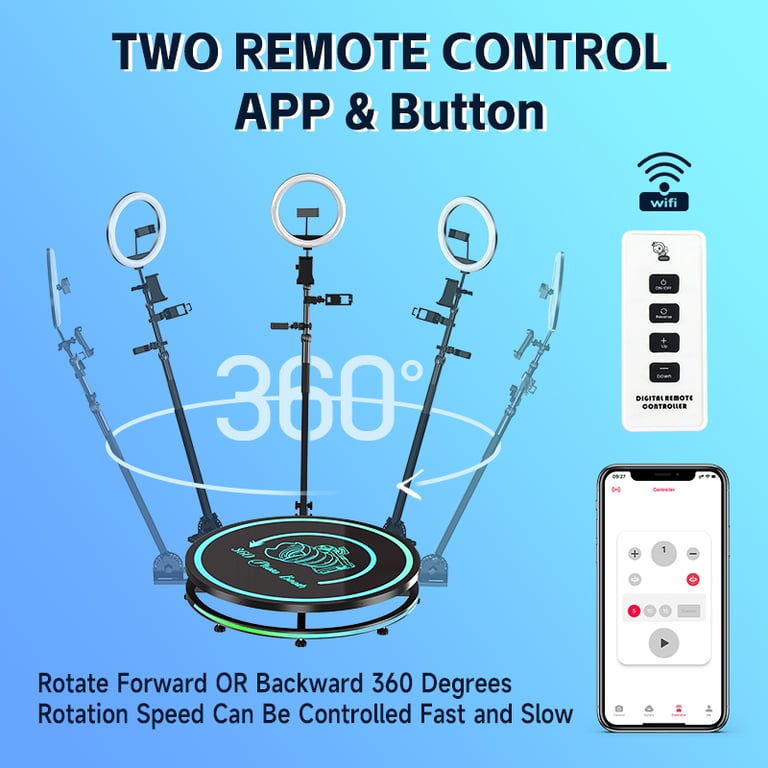 With ChackTok App help, your 360 photo booth business will fly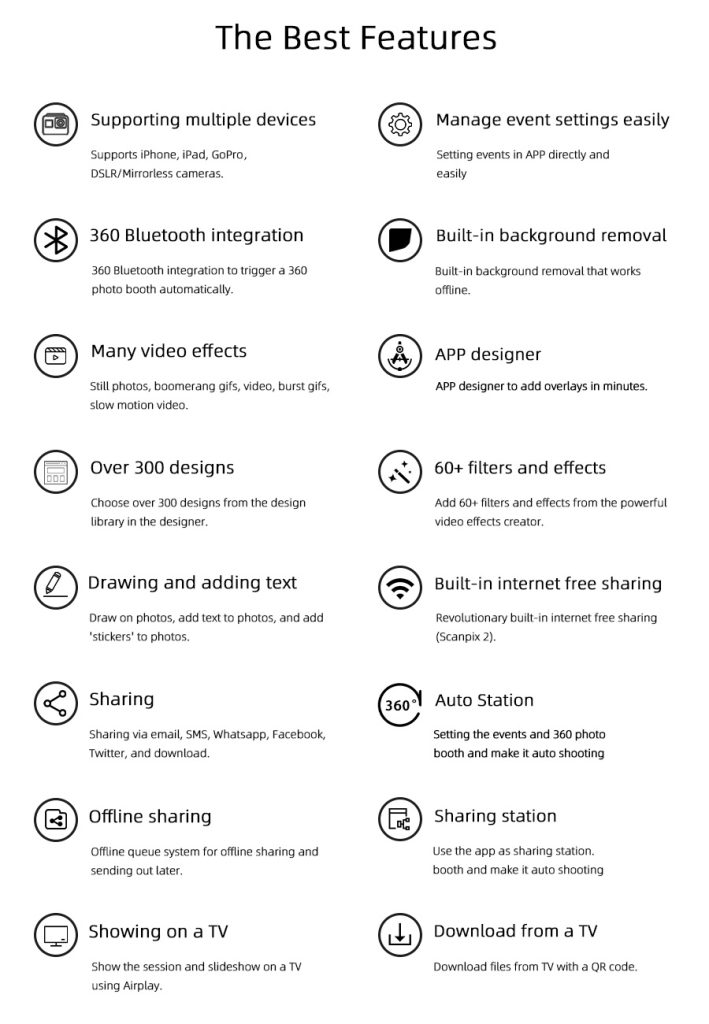 Who wants to buy/rent a photo booth? everyone!
definitely worth the investment
Happily, the age of the smartphone selfie hasn't dampened consumer interest in photo booth photos. A rising tide lifts all boats, and people are more eager than ever for photo opportunities. The global photo booth market is expected to grow 12% annually over five years, with revenue growing from $360 million in 2020 to an estimated $582.9 million in 2026, according to a report.
Life Events: Engagement party, wedding, bridal shower, christening, bar mitzvah, birthday party, baby shower, gender reveal party, family reunion, prom, bar mitzvah, sweet 16th-anniversary party, wedding anniversary, vow renewal, holiday party.
Corporate Events: Retreats, Team Building Events, Seminars, Promotions, Fundraisers, Experiential Marketing, Office Parties, Product Launches, Grand Openings, Trade Shows, Conferences, Celebrations, Brand Activations, Experiential Marketing.
Community events: street fairs, sporting events, recitals, concerts, pub quiz nights, school events, and open houses.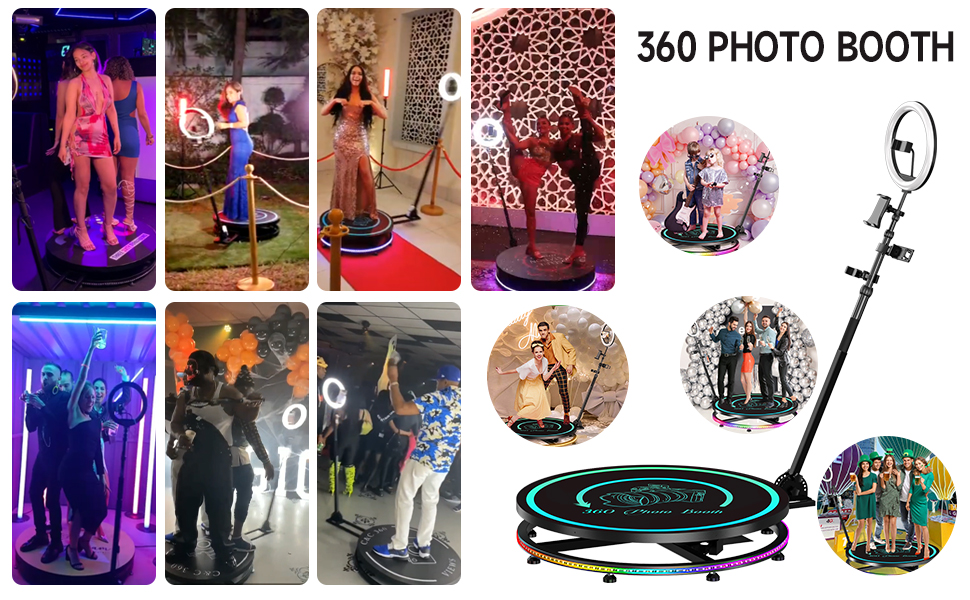 Widely Uses
Weddings – Brides & grooms use the 360 photo booths for guests to take at their weddings.
Bar/Bat Mitzvahs – Parents use 360 photo booths to capture good memories and provide souvenirs for attendees.
Anniversary Parties – Couples celebrate their anniversary by using a 360 photo booth and having their anniversary printed on the strip.
Company Parties & Holiday Parties – Company or holiday parties are festive by using a 360 photo booth, be sure to have appropriately themed templates, backdrop and props!
Corporate Events & Brand Activations – Companies use the 360 photo booths to create custom photo experiences for attendees of concerts, festivals, store openings, and other large scale events. The photos get shared on social media to expand the brands reach.
WE HELP YOU SUCCEED – FREE 1 ON 1 TRAINING
Hardware or software questions? No need to worry, we got you covered.
With any 360 platform or photo booth purchase our highly trained staff will guide you on operating your photo booth.We also have a Youtube Channel about Chacktok which has 1.43K subscribers,37 videos and 94,047 views.
Once you receive your photo booth, schedule a remote training session with one of our friendly staffs.
What's in the Box
Chacktok 360 Photo Booth

× 1

5V Adapter(for LED Strip)

× 1

LED Strip Remote Controller

× 1

Selfie Telescopic Rod

× 1
Specifications
Additional information
| | |
| --- | --- |
| Model | CK360SL |
| Size | 45″5′ |
| Material | Steel |
| Weight | Weight 185lb |
| Voltage | DC 24V |
| Consumption | 30W |
| Load-bearing | about 1300lb for 5-7 people |
| Maximum Speed | 24 RPM |
| Shipping | Free Shipping ( Only sell and ship in the US) |
[ChackTok 360 photo booth Features] This promotional item is shipped to the US only.
1.Revolutionary built-in wireless control protocol So Chacktok software can be used to smartly control ChackTok 360 booth
2.Record slow-motion, boomerang, and various mixed-mode 360 spinner videos - Share videos via SMS, QR code, or social media platforms.
3.Create Party events for your photo and videos -Create Business events such as Auto station events and Share station events -Record GIF files and share photoes as a photo booth
4.Add overlay and stickers to photos and videos -Beautify function and Color filter function -Cloud space for your event gallery and sharing
5.Add background music to videos -Support Gopro camera connection by Wire/Wireless way -Support TV screen as share information extend screen by Wire/Wireless way -For bussiness event support fast queue when visitor rush time or internet speed is slow.
6.Manage your Party events and bussiness events in your account.
Our 360 Photo booth does not include iPhone or any electronic equipment. Recommended parts are available on our Accessories List.
Free Shipping (US only)! Delivery time: 6-11 Days
Free Chacktok App for 4+4 months(Value 960$) (Unlimited Events without watermarks)
Free Personal Software Guiding ( Value 100$)
Free 3 Years  Damage Parts warranty (Value 1000$)
Free Custom Logo Sticker ( Value 199$)
Free Search ads Consultant service 3 months ( Value 1000$)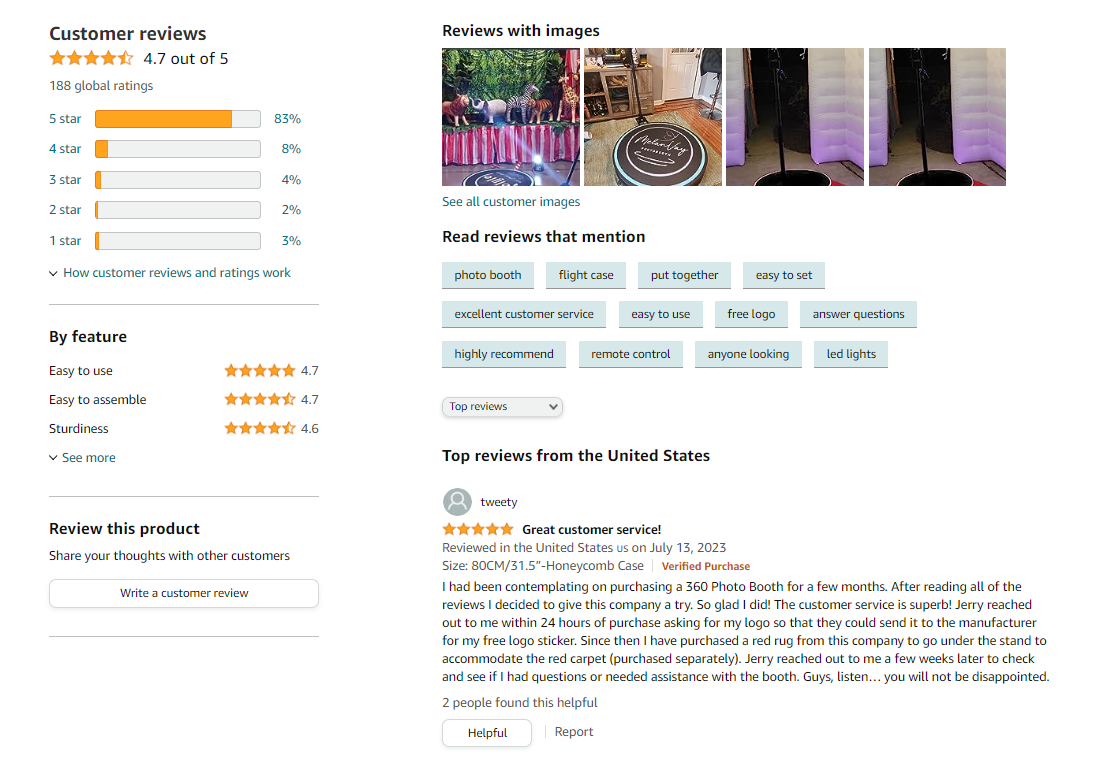 Don't Miss Top Accessories
Comment Submited
Thanks for your review.
It will be approve in short time.